This is the second weekend that I had no any time to write a piece of music to match a Chinese poem for I had to attend a staff meeting on Saturday afternoon and I was asked to correct a work report to our biggest shareholder and I worked from 11:00am until 1:00am in the office Sunday. So, now I would like to show you a piece of music that I wrote last Feb and hope to bring you a spring breath via my singing, music and thie poem. :-)



LISTEN TO THE TEXT

LISTEN TO SHIRLEY SINGING THE POEM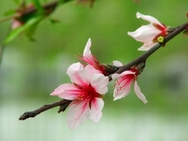 Hi, friends, today, I would like to introduce a new Chinese classical poem Hui Chong Chun Jiang Wan Jing ? Ducks Know the Spring Is Coming At the First Via the Warm River Water by the greatest poet in Song Dynasty (960-1279) -- Su Shi(1037-1101).

Su Shi was the greatest litterateur of North Song (960 --1126) for his outstanding achievement on poetry, lyrics and essays. He was also a great calligraphist and famous artist. :-)

Su Shi was from Mei Shan, Sichuan. He had a very good educational background and be called San(three) Su with his father and young brother together.

After becoming a successful candidate in the highest imperial examinations, he had much achievement on many positions as an official.

In poetry field, he had a very famous reputation as Huang Tingjian and be called "called "Su and Huan" in Chinese poetry history.

In lyrics field, Su Shi created the highest achievement no matter on its content and form in North Song. He was the founder of the poetry genre of "the Bold and Unconstrained Poetry Genre. So, he and the other greatest poet Xing Qiji in South Song (1126 - 1279) were called "Su and Xin".

In essay field, Su Shi was very good on dissertation. He is one of the Tang and Song Eight Great Masters. He had a same good reputation as Ou Yangxiu and be called "Ou and Su"

As a calligraphist, he was famous for his running hand and regular script. As an artist, he was favorite to paint bamboos.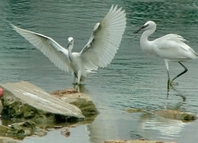 Su Shi was not only famous on the writing, painting and handwriting, but also he had his own literature and art theory. He emphasized that literature should be unique, expressive force and art value.

He has gone for about 900 years, but, he has left us more than 4000 poems, about 340 lyrics and many essays in the world. Many his lines are reading or recited or transmitted.

This poem was written on a picture that is titled Chun Jian Wan Jing --The Evening View by a Buddhist monk and artist who names Hui Chong.

I am sure, instead of remembering the title of this poem, most of people can remember its famous line: "Chun jian shui nuan ya xian zhi -- ducks know the spring is coming at the first via the warm river water."

So, I would like to make this line as the title of my translation of this poem. :-)

As usual, I wrote a piece of music for this poem and hope you enjoy it. :-)

MAIN MEANING OF THE PEOM

LISTEN TO SHIRLEY SINGING THE POEM :

There are 3 or 2 branches of peach blossom
out of the bamboo forest,
ducks know the spring is coming at the first
via the warm of river water,
beach wormwood is growing up everywhere
and reed's bud is short,
it is the time
that fugu will be in the market...

NEW WORDS:

Note: Please hit any Chinese character that you need helped, to see its Chinese pinyin, pronunciation, meaning and follow me to read it.

CHINESE CHRACTERS AND PRONUNCIATION:

惠崇春江晚景 -- Huì Chóng Chūn Jiāng Wǎn Jǐng

苏轼 -- Sū Shì

竹外桃花三两枝 -- Zhú wài táohuā sān liǎng zhī,
春江水暖鸭先知 -- chūn jiāng shuǐ nuǎn yā xiān zhī。
蒌蒿满地芦芽短 -- Lóugāo mǎn dì lúyá duǎn,
正是河豚欲上时 -- zhèng shì hétún yù shàng shí。

This is a poem of early spring, with several short lines; it has "painted" a beautiful picture of the early spring view in the south area of the Yangtze River. Hope you enjoy it.



LISTEN TO SHIRLEY SINGING THE POEM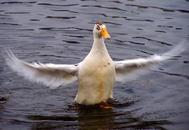 If you have any questions, comments and suggestions, please write to shirley@ebridge.cn , or shirleyz004@yahoo.com, You are welcomed to publish your opinions in Forum For Friends as well. :-)

--Shirley
Written, Translated and Recorded On Sat, 25, 2006