LISTEN TO THE TEXT

LISTEN TO SHIRLEY PLAY & SING THE POEM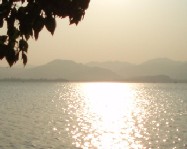 Tang Dynasty (A.D.618 -907) poet Li Bai is my favorite Chinese classical poet in Chinese poetry history. His poems have been affecting Chinese people since his time until now. :-) So, every time, when I want to read and learn a classical poem, first of all, I think of Li Bai's works.

Today, I would like to introduce one of his poems that is about sending one of his old friend off.

This is one of his most famous poems, most of Chinese children and adults can recite it because it has chosen into the text book of the elementary school. :-)

With a very simple language, it has expressed a very deep feeling of the poet to his friend.

As usual, I have written a piece of music to match it and hope you enjoy it.

Below are some poems of Li Bai that I have introduced for you. I have made the links for you and hope there is a little bit help to you to review them:

No.7:Chinese Classical Poem 0062 & Shirley Created Music-0052: Stay Overnight in a Temple in the Mountain
No.6: Classical Poem 0061 & Shirley Created Music-0051:Sitting Alone Below Jingting Mountain
No.5:Classical Poem 0060 & Shirley Created Music-0050:Drinking in the Moonlight Alone
No.4: Classical Poem 0057 & Shirley Created Music-0047:To Present A Poem to Wang Lun
No.3: Classical Poem--0039 & Shirley Created Music-0029: Looking at the Lushan Mountains' Waterfall
No.2: Classical Poem 0054 & Shirley Created Music-0044:A Song of Mount Emei.
No.1: Classical Poem 0055 & Shirley Created Music-0045: Sailing from Baidi City at Dawn.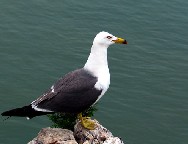 MAIN MEANING OF THE POEM

LISTEN TO SHIRLEY PLAY & SING THE POEM

My old friend will leave from the West of Yellow Crane Tower.
You are sailing down to Yangzhou in the peachblossoming reason in March.
Your alone sail is flying far away and disappearing in the end of the blue sky,
There is only the water of Yangtze River is flowing to the horizon...

THE TRANSLATION BY HUNDRED ART PUBLISHING HOUSE:

From west Crane Tower my friend is on his way.
Down to Yangzhou in misty, flowery March.
A sail's faint figure dots the blue sky's end,
Where's seen but River rolling till its bend.

NEW WORDS AND RONUNCIATION :

Please hit any Chinese character that you need help with, to see its Chinese pinyin, pronunciation, and meaning and follow me to read it.

CHINESE CHARACTERS

黄鹤楼送孟浩然之广陵

李白 (唐)

故人西辞黄鹤楼,
烟花三月下扬州。
孤帆远影碧空尽,
唯见长江天际流。




LISTEN TO SHIRLEY PLAY & SING THE POEM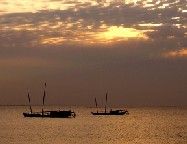 If you have any questions, comments and suggestions, please write to shirley@ebridge.cn , or shirleyz004@yahoo.com, You are welcome to publish your opinions in Forum For Friends as well.
Shirley Zhang
Written, Sung, Translated and Recorded on Sun, Dec 10, 2006