LISTEN TO THE TEXT

LISTEN TO SHIRLEY TO SING THE FIRST PART OF THE POEM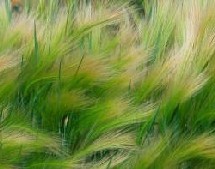 Hi, friends, today, I would like to introduce a new Chinese classical poem Fude Guyuan Cao Songbie -- Sending Off On The Ancient Grassland by Tang Dynasty (A.D.618 - A.D. 907) poet Bai Juyi(A.D. 772 - A.D.846).

Bai Juyi was a successful candidate in the highest imperial examinations (in A.D. 800) and be used as an official on some positions. Then he was demoted (in A.D.815)for he dared to speak something true and offended his boss. During he was demoted on an idle position-- Jianzhou Sima, he saw the common people's lives with his own eyes. That helped him to create many realistic poems and became the third most greatest poet after Li Bai and Du Fu in Tang Dynasty. He has left us more than 2800 poems. Many of them are very long and very famous.

In the mind of Bai Juyi, there was a very positive side from the Confucianism. He wanted to have a successful official career. The other side, he was affected by Taoism and Buddhism. So, in his later time, he wrote many poems relative to Buddhism, such as we have learned Hua Fei Hua, do you still remember it?

This poem Fude Guyuan Cao Songbie was written when Bai Juyi was only 16 years old when he went to the capital--Changan(today's Xian) from Jiannan (Today's south of Yangtze River Area) and to visit an elder poet Gu Kuang. At the first, Gu Kuang made a joke with Bai Juyi's name to say "it is not easy to live in the capital"( Juyi in Chinese means "easy to live" -- Ju means "live"; Yi means "easy, easily"), but, after he read the first sentences of this poem, he admired and said, "It is easy for you to live in the capital since you can write these lines". Then he helped Bai Juyi to publicize and soon Bai Juyi was famous in Changan... :-)

This poem is fampous for its first part. So, I just explain this part for you with voice and leave the second part for you to read it by yourself. Ok?

Also, I created a music for you to match ths poem and hope it is help to you to remember the lines and to understand its meaning and emotion. :-)

Note: Please hit any Chinese word to see its Chinese pinyin, meaning and pronunciation

MAIN MEANING OF THIS POEM

Listen To Shirley Sang The First Part Of the Poem:
Luxuriant grasses on the ancient plain,
They are withering in the autumn
and growing in the spring every year.
The wild fire can not burn it exhaustively,
As soon as the spring breeze is blowing,
They are growing out of the field again...

The fragrant grasses are spreading far away,
they are reaching and covering the ancient road.
In the fine sunshine,
They are connecting to the deserted town.
I am sending my prince friend off again,
even the thick grasses are full of the emotion of leaving...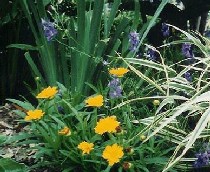 ANNEX--Translation by Hubei Education College:

Boundless grasses over the plain
Come and go with every season;
Wildfire never quite consumes them --
They are tall once more in the spring wind.

Sweet they press on the old high- road
And reach the crumbling city-gate....
O Prince of Friends, you are gone again....
I hear them sighing after you.

CHINESE CHARACTERS:

赋得古原草送别

Listen To Shirley Sang The First Part Of the Poem

白居易

离离原上草,
一岁一枯荣。
野火烧不尽,
春风吹又生。

远芳侵古道,
晴翠接荒城。
又送王孙去,
萋萋满别情。


NEW WORDS: Please hit any Chinese word to see its Chinese pinyin, meaning and pronunciation

赋得、古原、草、送别、白居易、离离、原上、草、一岁、一、枯荣、野火、烧、不尽、春风、吹、又生、远芳、侵、古道、晴翠、接、荒城、又、送、王孙、去、萋萋、满、别情


CHINESE PRONUNCIATION:

Fù Dé Gú Yuá Cǎo Sòng Bié

Bai Juyi

Lílí yuánshàng cǎo,
yīsuì yī kūróng。
yěhuǒ shāo bújìn,
chūnfēng chuī yòushēng。

yuǎnfāng qìn gǔdào,
qíngcuì jiē huāngchéng。
yòusòng wángsūn qù,
qīqī mǎn biéqíng。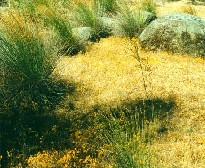 That is all for this poem, hope you enjoy it.

Listen To Shirley Sang The First Part Of the Poem

If you have any questions, comments and suggestions, please write to shirley@ebridge.cn , or shirleyz004@yahoo.com, You are welcomed.


--Shirley
Written, Edited and Recorded On Sat, Dec 10, 2005