Listen to Shirley Singing the Poem in Chinese & in English Sep17,2011



Listen to Shirley Introducing This Poem & Chinese Characters


Follow Shirley to Read the Poem & Chinese Characters



Learn the Meaning of the Poem With Shirley Together



See Shirley Created Picture & Calligraphy for the Poem Sep 18, 2011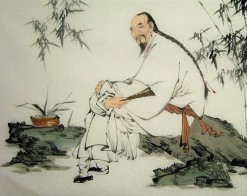 Hello, friends. Today, I would like to introduce a new Chinese classical peom by Zheng Xie (Zheng Banqian 1693-1765) who lived in Qing Dynasty (1644-1911).

Zheng Xie is famous for his poetry, calligraphy and paintings as one of the Eight Eccentrics of Yangzhou in Chinese art history. He was from Xinghua of Jiangsu Province.

Zheng Xie's father was a teacher and he had hundreds of students. Following his father, Zhen read many books, especially, he loved to read history, poetry, lyrics, and he could recite all of the things he had read and he passed the national examinations and then, from 1742 to 1746, he was the county magistrate in Fan county and in Wei County in Shandong.

When he was an official, he loved his people as his sons. He was an official for 12 years, there was no any injustice cases in his counties.

When he was the magistrate in Wei County, it was a famine year, he kept opening the granaries to help his people despite the strong opposition from his superiors and he saved more than then thousands of people. Anyway, what he had done annoyed his superiors and he was fired. He had to go back back home to paint.

The local people appreciated what he had done, and they built a memorial temple for him when he was still alive.

In 1748, Emperor Qianlong visited Shandong, he appointed Zheng Xie as the Shuhua Shi ? an Official Historian on Calligraphy and Painting. At least 5 of his books have passed down to now.

The best in his paintings is orchid and bamboo. He loved bamboo and he said that he would to "Hua Zhuzi Yi Wei Lao Ren -- Paint bamboo to comfort the people who were working hard".

This poem was juse writter in one of his bamboo painting (to see it below) as a part of the painting. Because it expressed a positive feelings of keeping the quality of honesty, straightness, rectitude as a bamboo and never bend down or give up in whatever hard environment, therefore, it has been famous and be recited by Chinese from the first day it was created.


I have learned to create a new painting and a piece of music to match this poem (see it via the links over). I do hope that my effort will be some help with you to know something more about Chinese language and culture.

MAIN MEANING OF THE PEOM :

The Bamboos on the Rocks

by Zheng Xie (Qing)

Cling to the green mountain, never give up,
The bamboos take their roots in the cracks of the rocks
Though they go suffer, they are still strong,
Hold unyielding, no matter the winds blow from where.

NEW WORDS & CHINESE CHARACTERS:

You are welcome to clink any Chinese Character to open the New Character Board and to see the Chinese pinyin, meaning, pronunciation and follow me to read the new words

竹 石
郑燮 ( 清 )

咬定青山不放松,
立根原在破岩中。
千磨万击还坚劲,
任尔东西南北风。

If you have any questions, comments and suggestions, please write to shirley@ebridge.cn , or shirleyz004@yahoo.com, You are welcome.

Shirley ZhangWritten, Sung, Translated & Recorded Jun September 17, 2011