Listen to the Text & Follow Shirley to Read the Sentences & Chinese Characters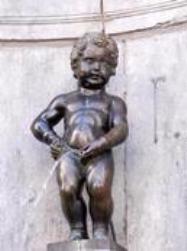 FOREWORD: Manneken Pis in Brussels, Belgium, is one of the art works that I visited in Europe in 2000. I was impression on the stories behind the little statue and I did enjoy the interesting figure of the lovely boy. Therefore, this weekend, when I was looking for the data for the weekly language topic, I was attracted by a new photo of it quickly. So, now, I would like to edit a few of new sentences about it for you.

I do hope that my effort will be some help with you to learn Chinese language.:-)

NEW WORDS AND PRONUNCIATIONS

Please hit any Chinese Character, to open the New Vocabulary Board, to see all of the Chinese Characters' Pronunciations, Meanings in the sentences and follow me to read them one by one..

NEW SENTENCES

No.0219: -- 撒尿小童-小于连雕像,是布鲁塞尔民俗学 的 象 征, 它( 他 )通常会在重要事件之际,穿上相应的服装 。

-- Manneken Pis, the symbol of Brussels folklore, gets a costume at major events.


No.0220-- 2011年 4 月 12 日, 小于连穿上了俄国 宇 航 员 的服装,庆祝前苏联 宇 航 员 尤里•加加林1961年 4 月 12日完成的人类首次太空飞行50周年。

-- On April 12, 2011, Manneken Pis dressed in the cosmonaut's clothes, to celebrate the 50th anniversary of the first human space flight, accomplished on April 12, 1961 by Soviet cosmonaut Yuri Gagarin.


No.0221: -- 2011年 4 月 9日,小于连为布鲁塞尔国际奇幻电影节的僵尸游行穿上了德拉库拉伯爵的服装。

-- On April 9, 2011, Manneken Pis dressed like Dracula for the Zombie Parade that was part of the Brussels International Fantastic Film Festival.


If you have any questions, comments or suggestions, you are welcome to write to shirley@ebridge.cn, or shirleyz004@yahoo.com.

--Shirley Zhang

Written, Edited and Recorded on April 15, 2011.