Following Shirley to Read the Poem in Chinese


Listen to Shirley to singing the Poem


Shirley Created Picture for the poem


Shirley Written Chinese Calligraphy for the Poem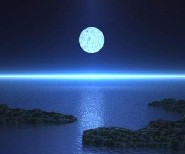 China is a poetic country. Many Chinese people start to learn poems when they just start to learn speaking. So, there are many young poets in the Chinese poetry history and now.

Today, I would like to introduce a new poem by a young poet Miushi Zi in Tang Dynasty (618 - 917): Fu Xinyue -- A New Moon

This is a poem to sing a new moon in the sky. With a simple language, it has expressed the wish that people do not think the new moon is too small, along with the time, when it is fifteen of a month, it will have become to be a perfect moon and to shine the world. Via the way to sing a moon, this poem expresses the great ideal of the young poet.Whole of the poem is full of the positive and confidence. So, it is popular in China and be chose for children.

I have written a piece of music, created a picture and written calligraphy to match it and hope what I did will be a little bit help to you to learn Chinese and to know more about Chinese culture.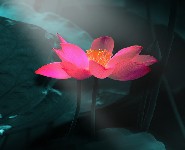 MAIN MEANING OF THE POEM

LISTEN TO SHIRLEY PLAYING & SINGING THE POEM

Singing A(The) New Moon

Miushi Zi

A clear new moon is hanging in the blue sky,
it is just like a bow that has not been opened yet.
People should not say it is too small
and just like pretty eyebrows at this time,
when the fifteen day has come,
it will have grown up as a big and round moon
to shine whole of the world.


NEW WORDS AND PRONUNCIATION :

Please hit any Chinese character that you need help with, to see its Chinese pinyin, pronunciation, and meaning and follow me to read it.

CHINESE CHARACTERS:

赋新月

缪氏子 (唐)

初月如弓未上弦,
分明挂在碧霄边。
时人莫道蛾眉小,
三五团圆照满天。



LISTEN TO SHIRLEY SINGING THE POEM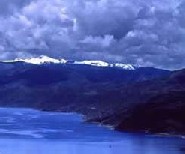 If you have any questions, comments and suggestions, please write to shirley@ebridge.cn or shirleyz004@yahoo.com. You are welcome to publish your opinions in Message Board as well.

Shirley Zhang
Written, Sung, Translated and Recorded on Sun, July 1, 2007