Listen to the Text by Shirley Dec 9, 2007


Listen to Shirley Singing the Poem in English Dec 9, 2007


Listen to Shirley Singing the Poem in Chinese Dec 9, 2007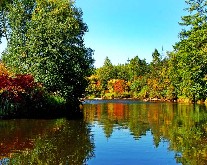 Today, I would like to introduce a famous lakeside poet Lin Bu in Song Dynasty (960 -1279).

As a famous poet, Lin Bu (967 -1028) was very lofty and be indifferent to fame or benefit. So, he had settled down by the West Lake and did not been in the city for 12 years and be well-known as a lakeside poet.

Lin Bu did not get marry in whole of his life and he planted plum blossom and raised crane and called the plum blossom as his wife and the crane as his son. However, he did have written some very good loving lyric poems.

This lyric has written the sorrow feelings of a young lady who has to see her lover off when the river has risen.

With a simple but visual language, this lyric has "painted out" some beautiful views for us -- in the green clothes, the Wu Mountains and the Yue Mountains send off and welcome the ships day and night. But, they never know the sadness of the people who have fell in love each other, but have to part soon. So, the tears are full of their eyes. Not only for the leaving, but also for their loving does not work, their dream to get marry has changed to be nothing… Their love will just bring both of them a sadness forever.

But, what has happened to them? The poet did not say; leave a room to us to imagine…

I have written a piece of music to match it and I have sung it in English and Chinese. I just hope my effort will be a little bit help to you to learn Chinese.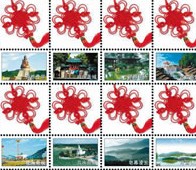 MAIN MEANING OF THE LYRIC


Listen to Shirley Singing the Poem in English Dec 9, 2007


Listen to Shirley Singing the Poem in Chinese Dec 9, 2007
Everlasting Longing

By Lin Pu

The Wu mountains are green,
the Yue mountains are green,
on the two banks they are greeting your ship,
who know our grief of parting...

Tears are in your eyes,
tears are in my eyes,
in vain we tried to join by marry ties,
tide of the river has risen...

Attaching: Translation by 100 Tang & Song C/Poems by Xu Yuanchong:

The northern hills so green,
the southern hills so green,
they gree your ship which sails the river between,
my grief at parting is so keen.

Tears streaming from your eyes,
tears streaming from my eyes,
in vain we tried to join by marrige ties.
I see the silent river rise.


NEW WORDS:

Note: Please hit any Chinese character that you need helped, to see its Chinese pinyin, pronunciation, meaning and follow me to read it.

CHINESE CHARACTERS:

长相思

林逋 (宋)

吴山青,
越山青。
两岸青山相送迎,
谁知离别情?

群泪盈,
妾泪盈,
罗带同心结未成,
江头潮已平。



Listen to Shirley Singing the Poem in English Dec 9, 2007


Listen to Shirley Singing the Poem in Chinese Dec 9, 2007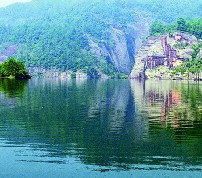 If you have any questions, comments and suggestions, please write to shirley@ebridge.cn , or shirleyz004@yahoo.com, You are welcomed.

Shirley Zhang
Sun, Dec 9, 2007