LISTEN TO SHIRLEY SINGING THE SONG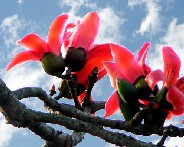 On Wednesday, my vocal music teacher was due to go to Beijing in connection with studies and work at an affiliated school of the Central China Music College, and so she came on Tuesday evening to give me my music lesson.

She chose this Shanxi Folk That I Sung in Oct, 2005, and I wanted do my best and make my teacher feel happy about her work...

However, that evening, when I left the office building I found that 3 other cars were blocking mine in the company car park -- people know that I often park my car in the morning and then leave it in the car park at lunch time so I can walk home in in the wonderful warm winter sunshine -- so I had to wait for a guard to call my colleagues to remove their cars. In the end the time between my lesson and the time I left the company car park was reduced to only 30 minutes or so and consequently I had no time to eat anything or to change my work clothes before my teacher came to my home...

So, I did not really do my best work as I had wished because I did not have time adjust my breath and I felt hungry as I was standing there to sing... :-)

About the Shanxi folk song, I have already introduced you to another one last Feb for which there is a link below:

Shirley Sung China (Shānxi) Folk Song -- 0017: People Said That Shanxi Is In A Good Scene --Ren Shuo Shanxi Hao Fengguang


I do hope that my song will bring you a smile and also be a little bit of help to you in knowing more about Chinese culture and in your Chinese learning.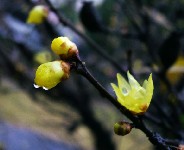 MAIN MEANING OF THIS LULLABY

LISTEN TO SHIRLEY SINGING THE SONG

Embroidered Pouch

From calends to fifteen,
the moon is highest on fifteenth (mid month).
The spring wind is waving the tops of poplars and willows.

Peach blossom is blossoming in March,
boyfriend took along a letter,
and asked a pouch.

To embroider a ship at the first,
It is setting sail,
the meaning in the picture,
you have to guess it by yourself.

To embroider a pair of mandarin ducks secondly,
they are roosting by the river,
you lean against me and I lean against you,
never leave each other.

You are a young man,
I am a girl like a flower that is just blossoming,
when you get the pouch,
you have to come back earlier...


CHINESE CHARACTERS AND PRONUNCIATION

LISTEN TO SHIRLEY SINGING THE SONG:

绣荷包

初一到十五 -- Chu yi dao shi wu,
十五的月儿高 -- shi wu de yue er gao,
那春风摆动 -- na chun feng bai dong
摆动那杨柳梢 -- bai dong na yang liu shao。

三月桃花开 -- Sa yue tao hua kai,
情郎捎书来 -- ying lang shao shu lai,
捎书书带信信 -- shao shu shu dai xing xing,
要一个荷包袋 -- yao yi ge he bao dai。

一绣一只船 -- Yi xiu yi zhi chuan,
船上张着帆 -- chuan shang zhang zhe fan,
里面的意思 -- li main de yi shi,
情郎你去猜 -- qing lang ni qu cai.

二绣鸳鸯鸟 -- Er xiu yuan yang niao,
栖息在河边 -- qi xi zai he bian,
你依依我靠靠 -- ni yi yi, wo kao kao,
永远不分开 -- yong yuan bu fen kai。

郎是青年汉-- Lang shi nian qing han,
妹如花初开 -- mei ru hua chu kai,
收到这荷包袋 -- shou dao zhe e bao dai,
郎呀你早回来-- lang ya ni zao hui lai。



LISTEN TO SHIRLEY SINGING THE SONG: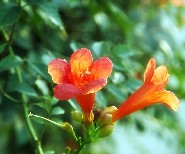 If you have any questions, comments or suggestions, please write to shirley@ebridge.cn , or shirleyz004@yahoo.com, You are also welcome to publish your opinions in Forum For Friends. :-)
--Shirley
Written, Translated, Sung and Recorded on Sat, Jan 13, 2006