LISTEN TO THE TEXT

LISTEN TO SHIRLEY PLAY & SING THE POEM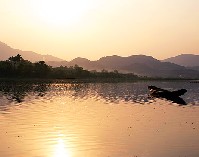 Hi, friends, when you see the title of today's Chinese Classical Poem, maybe you will say that this is a poem that Shirley has introduced already. Yes, I did it in July, 2005 Tang Poetry --003: Zeng Wang Lun as the third Chinese Classical poem in the column. However, then, there was no a suitable database to save my works, there was no a suitable edition system to make the new words to be used repeatedly, I could not make the tone to be put over the Chinese character, also, I had not written and played any music to match the poem...

Now, 1 year and 3 months has past and all of the problems over have been resolved, so, I would like to re-edit the first several poems and I will write some musid for them as well... :-)

This poem was written by Tang Dynasty(A.D618-A.D.907) poet Li Bai(A.D.701- A.D.762). To express his appreciated heart to his friend Wang Lun for he came to send off Li Bei when he just would like to leave from the Peach Blossom Pool with songs. Li Bei wrote this poem for Wang Lun and said that "the water of the Peach Blossom Pool is deep about one thousand inches, but, the affection that Wang Lun sending me, is deeper than the water much more..."

About Li Bai and his poetry achievement, you can hit any Chinese character below, to see the introduction that I have done for you on the new words board. Also, you can review some pomes that we had touched before via the links:

Chinese Classical Poem--0039: Looking at the Lushan Mountains' Waterfall
Chinese Classical Poem 0054:A Song of Mount Emei.
Chinese Classical Poem 0055: Sailing from Baidi City at Dawn.

As usual, I have written a piece of music to match it and hope you enjoy it.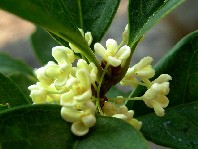 MAIN MEANING OF THE POEM

LISTEN TO SHIRLEY PLAY & SING THE POEM

To Present a Poem to Wang Lun

I am just going to sail off by a skiff,
Suddenly I hear a song from the bank with a step.
The depth of water of Peach Blossom Pool
is one thousand inches,
the affection of Wang Lun to send off me
is deeper than the water much more...


ATTACH: A TRANSLATION BY SOMEONE ELSE:

To sail off in a skiff I was about;
Sudden I heard singing ashore all out.
A thousands feet deep Peach Bloom Lake maybe be,
Compare not it could with Wang's love for me.

By Wang Dalian from Handred Flower Publish House


NEW WORDS AND RONUNCIATION :

Please hit any Chinese character that you need help with, to see its Chinese pinyin, pronunciation, and meaning and follow me to read it.


CHINESE CHARACTERS

LISTEN TO SHIRLEY PLAY & SING THE POEM :

赠汪伦

李白 (唐)

李白乘舟将欲行,
忽闻岸上踏歌声。
桃花潭水深千尺,
不及汪伦送我情。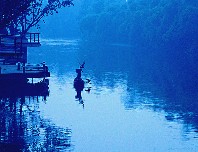 If you have any questions, comments and suggestions, please write to shirley@ebridge.cn , or shirleyz004@yahoo.com, You are welcome to publish your opinions in Forum For Friends as well.
--Shirley
Written, Sung, Translated and Recorded on Sun, Sep 17, 2006