LISTEN TO THE TEXT

LISTEN TO SHIRLEY PLAY & SING THE POEM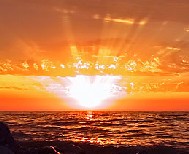 In Chinese language, there is an idiom "Gui Xin Si Jian". It means "anxious to return", to say how a person wants to come back home or somewhere else in a hurry. This is just a similar feeling that you will see in today's Chinese classical poem Cao Fa Baidi City -- Sailing from Baidi City in the Early Morning/at Dawm by Tang Dynasty poet Li Bai.

This poem was written when Li Bei suddenly got the news that he had been remitted on the road that he was being banished, to express his delight heart and the feelings of anxious to return.

We can see the situation via the little poem: A delight poet got up at the dawn and he was sailing from the colored clouds of Baidi City, and he said to himself or someone else that I will be back to Jiang Ling that is far away about 10 thousand miles within only one day. When the monkeys' songs from the banks are still by my ears, my little skiff has flowed over ten thousand mountains already...

About Libai and his poetry achievement, you can hit any Chinese character below, to see the introduction that I have done for you on the new words board. Also, you can review some pomes that we had learned before via the links:Chinese Classical Poem--0039: Looking at the Lushan Mountains' Waterfall and Chinese Classical Poem 0054 & Shirley Created Music-0044:Emei Shan Yue Ge -- A Song of Mount Emei.

As usual, I have written a piece of music to match it and hope you enjoy it.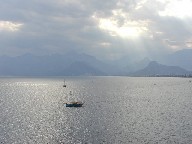 MAIN MEANING OF THE POEM

LISTEN TO SHIRLEY PLAY & SING THE POEM

I have left from the colored clouds of Baidi City at dawn,
I am sailing one thousand miles
for being back Jiangling within one day.
The songs by the monkeys
from both of the banks is still in my ears,
my skiff has passed ten thousand mountains already...

ATTACH: A TRANSLATION BY SOMEONE ELSE:

Sailing from White King Town

Having left White King Town at dawn,
Where red clouds play;
I am back to Jiangling through sailing long miles one day.
With monkey's cries along both banks still ringing in my ears,
My skill has passed by mountains,
One and all, in cheers.

By Wang Daqian, Hundred Flowers Publishing House.


NEW WORDS AND RONUNCIATION :

Please hit any Chinese character that you need help with, to see its Chinese pinyin, pronunciation, and meaning and follow me to read it.


CHINESE CHARACTERS

早发白帝城

李白 ( 唐 )

朝辞白帝彩云间,
千里江陵一日还。
两岸猿声啼不尽,
轻舟已过万重山。



LISTEN TO SHIRLEY PLAY & SING THE POEM :


If you have any questions, comments and suggestions, please write to shirley@ebridge.cn , or shirleyz004@yahoo.com, You are welcome to publish your opinions in Forum For Friends as well.
--Shirley
Written, Sung, Translated and Recorded on Sun, Sep 10, 2006