LISTEN TO SHIRLEY SINGING THE SONG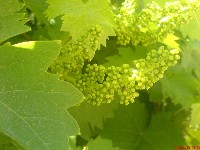 Today, I would like to sing and to introduce you a new Chinese folk song Turpen's Grape Is Ripe. Meanwhile, I have opened a new column on my web site -- Tour to introduce something about Turpan, you can see the link and to check it Turpan, A Bright Pearl On The Ancient Silk Road.

What I wished is to make the new column to match the other parts on the web site, try to give you a culture background for my music, art, language and literature works, also, offer you some information to help you to have a good trip in China some day...

Also, I do feel this song express a typical Chinese's traditional relationship between a man and a woman. A man goes out to work and a woman to support him at home. From lover to be husband and wife… but, now along with the time, things are changed a lot…

MAIN MEANING OF THE SONG

LISTEN TO SHIRLEY SINGING THE SONG:

Ke Limu joined up the army and he went to the border.
He planted a grape before he left off.
The girl A Na Rr Gan in the garden,
breeded the green young seedling carefully.
Ah,
She carried the snow water to water it,
she put up the arbor to make the sunshine to shine it.
The grape takes it root into the soil,
its long vine is winding on the girl's heart...

Several years has past,
the little seeding has grown up,
looks like tall and strong,
when the fruit is full of the branches,
A successful news of Ke Limu's has been past to her.
Ah,
The girl looked into the distance border on the snow mountain,
sent a bunch and a bunch of grape.
When the grape is ripe in Turpan,
the heart of Ar Na Er Hai is getting sweet...


CHINESE CHARACTER AND PRONUNCIATION

LISTEN TO SHIRLEY SINGING THE SONG:

克 里 木 参军去到边哨--Ke Limu caijun qudao bianshao,
临 行 时 种 下 了 一 棵 葡 萄--lingxing shi zhongxia liao yike putao,
果 园 的 姑 娘 哦 阿 娜 尔 罕 哟--guoyuan de guniang wo Ar Naerhan yao,
精 心培育 这绿色 的 小苗--jingxian peiyu zhe luse de xiaomiao。
啊--ah,
引 来了雪水 把 它浇灌 -- yinlai le xueshui ba ta jiaoguan,
搭 起 那 藤架 让 阳 光 照 耀-- daqi na tengjia rang yangguan zhaoyao,
葡萄 根 儿扎 根 在沃土-- putao gener zhagen zai wotu,
长长蔓 儿在心头缠绕 -- changchang maner zai xintou chanrao。


葡萄园 几 度 春风秋雨 -- putao yuan jidu chunfeng quyu,
小苗 儿 已 长得 又 壮 又高-- xiaomiao er yi zhang de you zhuang you gao ,
当 枝 头 结 满 了果实的 时候-- dang zhitou jieman le guoshi de shihou,
传 来 克 里 木 立 功 的 喜 报 -- chuanlai le Le Limu ligong de xibao。
啊--ah,
姑娘啊遥望着雪儿哨卡 -- guniang a yaowang zhe xueshan shaoka,
捎去了一串串甜美的葡萄 -- shao qu le yi chuanchuan putao,
吐鲁番的葡萄熟了-- tulufan de putao shule,
阿娜尔罕的心儿醉了 -- A Na Er Han de xin er zui le。




LISTEN TO SHIRLEY SINGING THE SONG


If you have any questions, comments and suggestions, please write to shirley@ebridge.cn , or shirleyz004@yahoo.com, You are welcomed to publish your opinions in Forum For Friends as well. :-)

--Shirley
Written, Translated and Recorded It Sat, June 9, 2006