LISTEN TO SHIRLEY SINGING THE SONG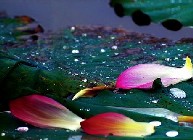 Yesterday, I spent the whole day painting and forgot all about my vocal music lesson until the teacher arrived at my home. Since I did preview my lesson as my teacher's requirement, I tried to record a song that I learned in 2003 -- Red Bean Lyrics by Cao Xueqin in his great novel Hong Lou Men -- A Dream of Red Mansions.

These lyrics were sung by the male character in the novel, Jia Baoyu, to express his love and missing feelings for the female character, Lin Daiyu.

In Chinese culture, red beans always relate to missing someone. Most of time, they express the feeling of missing a lover, a friend or a family member. Last September, I introduced a Chinese classical poem Chinese Classical Poem--009: Xiang Si -- Red Bean Seeds by Tang Dynasty poet Wang Wei. The two poems were written in 1200 years ago, and 330 years ago, the same theme connects them, the feelings of missing and love.

I have already introduced Cao Xueqin and his Novel when I introduced some other lyrics by him in the article, Chinese Folk Song/ Classical Poem--0018: Wang Ning Mei -- Frowning In Vain, which you can review via the link.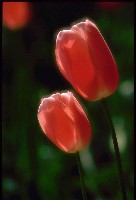 MAIN MENAING OF THE SONG

LISTEN TO SHIRLEY SINGING THE SONG:


The feelings of missing you,
are just like the endless blood and tears
that have fallen and colored the red beans,
like the spring willows and flowers that blossom by the painted building
year after year.
I do not get sleepy after the dusk
in the wind and rain,
I can not forget the new worries
or the old anxieties,
I can not eat the best food.
I can not open my brows,
I can not sleep for a while,
Ah...ah...
My love for you,
just like the blue mountain
can not be covered at all,
just like the green water,
it will flow forever.


CHINESE CHARACTERS AND PRONUNCIATION

LISTEN TO SHIRLEY SINGING THE SONG:

滴不尽相思血泪抛红豆-- di bujin xiangsi xuelei pao zhongdou,
开不完春柳春花满画楼-- kai buwan chunliu chunhua man hualou,
睡不稳纱窗风雨黄昏后-- shui buwen shachuang fenyu huanghun hou,
忘不了新愁与旧愁-- wangbulia xinchou he jiuchou,
咽不下玉粒金波噎满喉-- yanbuxia yuli jinbo ye man hou,
照不见菱花 镜 里 形 容瘦-- chao bujian linghua jingli huarong shou,
展不 开眉头-- zhan bukai meitou,
挨不明更漏-- ai buman gonglou,
呀...呀...-- ya... ya...
恰便似遮不住的青山隐隐-- qiasi zhebuzhu de qingshan yinyin,
流不断的绿水悠悠-- liu budian de lushui youyou!"



LISTEN TO SHIRLEY SINGING THE SONG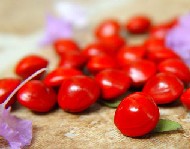 If you have any questions, comments or suggestions, please write to shirley@ebridge.cn, or shirleyz004@yahoo.com, You are also welcome to publish your opinions in Forum For Friends. :-)
--Shirley
Written, Translated and Recorded It On Sat, April 8, 2006