LISTEN TO THE SONG BY SHIRLEY :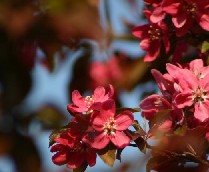 Hi, friends, tonight, in my vocal music lesson I reviewed and recorded a song that is from a Chinese opera -- Ms. Jiang -- Praising Red Plum Blossom.

Opera Ms. Jiang was created and first performed in 1964. It talked a story that happened in 1949. As a leader of an army in local to fight again the Kuomintang army, after her husband was killed by the enemy, Ms. Jiang was arrested as well.
In the prison, she suffered many excruciations. Instead of choosing to tell the enemy the secret of her organization and to live in the world, she rather than chose to be killed in the execution ground with her song. This song "Praising Red Plum Blossom" was sang by Ms. Jiang to express her loyal heart that rather than to be a red plum blossom to blossom in the snow and to welcome the spring to come.

This opera was edited by Mr. Yan Su. Mr. Yang Ming, Jiang Chunyang and Jin Sa created the music..

MAIN MEANING OF THE SONG

LISTEN TO THE SONG BY SHIRLEY :

Red plum blossom is blossoming on the red rock,
she is standing on the ice and frost of thousand miles,
she is not dare of the bitter cold in the winter,
her loyalty hear is opening to the sunshine.

Red plum blossom is blossoming,
every flower is sheening.
she is raising her head and blossoming thousands flowers
her sweet smelling are flying to clouds and sky,
she is waking all of flowers to blossoming together,
to sing and celebrate a new spring is coming...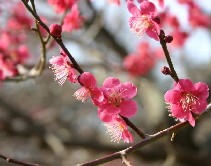 CHINESE PROUNCIATION:

Hong2 yan2 shang4 hong2 mei2 kai1,
qian1 li3 bing1 shuang1 jiao3 xia4 cai3,
san1 qiu3 yan2 han2 he2 suo3 ju4,
yi1 pian4 dan1 xin1 xiang4 yang2 kai2。

Hong2 mei2 hua1 er kai1,
duo3 duo3 fang4 guang1 cai3,
an2 shou3 nu4 fang4 hua1 wang4 duo3,
xiang1 piao1 yun2 tian1 wai4,
huan4 xing3 ban3 hua1 qi1 kai1 fang4,
gao1 ge1 huan1 qing4 xin1 chun1 lai2。

CHINESE LYRICS

LISTEN TO THE SONG BY SHIRLEY :

红岩上红梅开,
千里冰霜脚 下踩,
三九严寒何所惧,
一片丹心向阳开。

红梅花儿开,
朵朵放光彩,
昂首怒放花万朵,
香飘云天外,
唤 醒百花齐开放,
高歌欢庆新春来。

Ok, thanks a lot for coming to Shirley's Music and I do hope it can help you to know more about Chinese colures and music.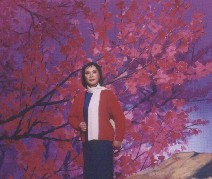 If you have any questions, comments and suggestions, please write to shirley@ebridge.cn , or shirleyz004@yahoo.com, You are welcomed.

--Shirley
Written, Edited, Sang and Recorded It In On Sat, Nov 26, 2005