LISTEN TO THE SONG BY SHIRLEY :



TO KNOW MORE ABOUT THE MUSIC OF THE YELLOW RIVER CHORUS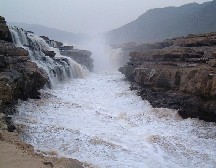 Hi, friends, today, I would like to introduce a new Chinese art song Huang Shui Yao -- Yellow Water Ballad. This song is from a very famous Chinese Chorus -- Yellow River.

Every nation has his own mother river. The Yellow River (and the Yangtse Rive) is the cradles of the Chinese nation, so, for Chinese, to sing the Yellow River just means to sing the Chinese nation, to protect the Yellow River just means to protect China. So, during the II World War, in 1939 -- the third year that China started the war to fight against the aggression from Japanese in the whole country area, a famous Chinese poet Mr. Guang Weiran(1913 - 2002), created his famous long group of poems with over 400 lines and 8 parts -- The Yellow River when he was only 25 years old, to express his love to the Yellow River and the decision that the Chinese nation to protect the country. A famous Chinese musician Mr. Xian Xinghai(1905-1945) who came back from Paris Music College for taking part in the war to save the Chinese nation, created a group of music for the lyrics, that is the famousYellow River Chorus.

There are 8 movements in the Yellow River Chorus. The Yellow River Ballad is a pert of the 3rd movement.

Mr. Xian Xinghai is one of my favorite Chinese musicians. I not only admire his music, but also I admire him as a musician who dedicated his life to his nation. I think, to learn how to sing a song or how to play a piece of music is important, to learn how to be a perfect person from those great musicians is more important for me as a student who is learning music. Do you agree with me?

I had written something to introduce the music of the Yellow River Chorus in 2000. Here is it The Music Of The Yellow River Chorus and hope it can help you to know more about Chinese music and culture ... :-)


THE MAIN MEANING OF THE SONG

LISTEN TO THE SONG BY SHIRLEY:

The yellow water is flowing to the orient,
the river is ten thousands miles long.
its water is rapid,
its wave is high,
it gallops and howls just as a tiger and a wolf.

To open the river course,
to bank up the embankment,
to make the land of thousand mile to be a peaceful and rich oil,
Wheat's seedling was fat,
bean flowers were sweet-smelling.
men and women, old and young were jubilance.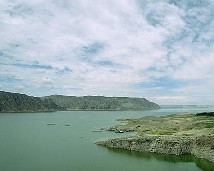 Since the devils came,
common people are suffering disasters
--- being raped,
being burnt,
and being killed…
Everywhere is a lonely and desolate,
To bring along with the young and the old,
to flee from home all around,
lose our parents,
can not go back hometown...

The yellow water is flowing,
Being busy day and night...
Our families to be broken up,
have to live far apart from each other...

THE CHINESE PRONUNCIATION

LISTEN TO THE SONG BY SHIRLEY:

Huang2 shui3 ben1 teng2 xiang4 dong1 fang1,
hu2 liu2 wang4 li3 chang1.
Shiu3 you4 ji2,
lang4 you4 gao1,
ben1 teng2 jiao4 xiao1 ru2 hu3 lang2.

Kai1 he1 qu2,
zhu4 di1 fang2,
he2 dong1 qian1 li3 cheng2 ping2 rang3.
Mai4 miao2 fei2 ya,
dou4 hua1 xiang1,
nan2 nu3 lao3 shao4 xi3 yang2 yang2.

Zi4 cong2 gui3 zi lai2,
bai3 xing4 zao1 le yang1!
Jian1 yin2 shao1 sha1,
yi1 pian4 qi1 liang2,
fu2 lao3 xie2 you4,
si4 chu4 tao2 wang2.
Dui1 diao4 le die1 niang2,
hui2 du4 liao3 jia1 xiang1!

Huang2 shui3 ben1 teng2 ri4 ye4 mang2,
qi1 li2 zi3 san4,
tian1 ge4 yi1 fang1!
qi1 li2 zi3 san4,
tian1 ge4 yi1 fang1!

CHINESE CHARACTERS

LISTEN TO THE SONG BY SHIRLEY:

黄水奔流向东方,
河流万里长.
水又急,
浪又高,
奔腾叫啸如虎狼.

开河渠,
筑堤防,
河东千里成平壤.
麦苗儿肥啊,
豆花儿香,
男女老少喜洋洋.

自从鬼子来,
百姓遭了殃!
奸淫烧杀,
一片凄凉,
扶老携幼,
四处逃亡,
丢掉了爹娘,
回不了家乡!

黄水奔流日夜忙,
妻离子散,
天各一方!
妻离子散,
天各一方!

Ok, that is all for this song, hope you enjoy it. :-)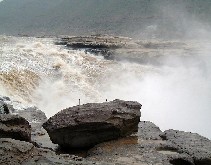 If you have any questions, comments and suggestions, please write to shirley@ebridge.cn , or shirleyz004@yahoo.com, You are welcomed.

--Shirley
Written on Sun, Nov 6, 2005
Edited, Sang and Recorded In On Sat, Nov 12, 2005