Listen to Shirley Singing the Lyric in English & in Chinese Feb 6, 2012


Listen to Shirley Singing the Lyric in Chinese & in English Feb 6, 2012



Listen to Shirley Explaining the Lyric & Follow Me to Read it


Follow Shirley to Read the Chinese Lyric & Chinese Lyrics



Learn the Meaning of the Lyric



See Shirley Created Calligraphy & Paintings for the Lyric Feb 2-4,2012



See Shirley Created Calligraphy & Paintings for the Lyric June 26, 2010



See Mr. Mao Zedong Created Calligraphy for the Lyric Dec,1961


Plum blossom is one of the important parts in Chinese culture. It is the subject that has been expressing by the ancient and contemporary Chinese literature and art works for a few thousand years. One of the most famous poems / lyrics to appreciate plum blossom is the Bu Suan Zi ? Yong Mei by Lu You (1125 - 1210) in Song Dynasty (960-1279):


驿外断桥边 ? Beside the broken bridge and outside of the post-hall ,
寂寞开无主 ? A flower is blossoming forlorn。
已是黄昏独自愁 ? Saddened by her solitude at nightfall,
更著风和雨 ? by wind and rain she is further torn。

无意苦争春 ? To spring she lays no claim,
一任群芳妒 ? let other flowers their envy pour。
零落成泥碾作尘 ? Fallen in mud and ground to dust, she seems no more,
只有香如故 ? but her fragrance is still the same.

In Lu You's poem /lyric, the plum blossom is alone, pure and envied by the other flowers. But even though she has changed to be mud and ground to dust, she still keeps her fragrance. The other ancient poems relate to plum blossom also similar with this kind of meaning.

In December, 1961, during China's economy was in the quite difficult time. Chairman Mao Zedong (1893 - 1976) read the lyric by Lu You (1125 - 1210). With the same name of the tune, he wrote/filled a new lyric with totally different meaning.

In my opinions, this is the most positive and the best poem on plum blossom.

This poem/lyric has written out two kinds of the characteristics of the plum blossom:

1. She is much stronger and braver than any the other flowers so that she can be able to blossom her beautiful flowers in the coldest season when the cliff is covered by the ice.

2.She is beautiful and blossoms earliest, but, she does not want to compete her beauty with the spring and the other flowers at all. What she wants to do is just to be the herald of the spring. When all of the flowers have blossomed already, she will return among the flowers with a big smile...

I do think that via writing the beautiful quality of the plum blossom surface and inside, Chairman Mao has written out of his own dreams ? to keep the excellent personality of a person ? to work and live with a beautiful, positive and optimistic life attitude, to overcome the difficulties in the hard time...

In June, 2010, when I suffered the pain of the sickness, I re- read this lyric and it really helped me so much. So that I created 4 paintings and a piece of music to match the lyric.

Now, in the Spring Festival vacation 2012, I have re-painted the painting, re-translated the lyric, re-sang it. Meanwhile, my music and English tutors Prof. Meng Weiye, Mike J. Xiaogang Z. and Mr. William G. have cheched my translation and music.

They will also check my poem comments latter.

I do hope that our effort will be some help with you to learn Chinese culture and language.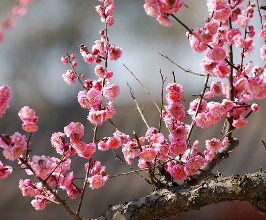 Main Meaning of the Lyric

Bu Suan Zi •Ode to the Plum Blossoms

By Mao Zedong (1893- 1976)

(Reading Lu You's Lyrics -- Bu Suan Zi • Ode to the Plum Blossom, write with the same tune, but the opposite meaning.)

The wind and rain saw spring off,
The flying snow welcomes it back.
Though the lofty cliff is till covered with the ice,
There is a plum blossom pretty.

Never vie with the spring for her beauty,
Just being the messenger of the spring.
When the mountain flowers are in full bloom,
She will smile among the blossoms.

The Other Translation by Foreign Languages Press, March, 1999

OLD TO THE PLUM BLOSSOM

――to the tune of Bu Suan Zi
December 1961

On reading Lu You's Old to the Plum Blossom, I countered it with
the following lines.

Wind and rain escorted Spring's departure,
Flying snow welcomes Spring's return.
On the ice-clad rock rising high and sheer
A flower blooms sweet and fair.

Sweet and fair, she craves not Spring for herself alone.
To be the harbinger of Spring she is content.
When the mountain flowers are in full bloom
She will smile mingling in their midst.


Chinese Characters & Pronunciations :

You can clink any Chinese Character to open the New Character Board and to see its Chinese pinyin, meaning, pronunciation and follow me to read it, also, you can hit the links over to enter the Painting Column,or you can directly enter the art notes on the painting that I created for this poem to see my painting and art notes for the poem

卜算子•咏梅

毛泽东

读 陆 游 咏 梅 词,反其意而用之。

风雨送春归- Fēnyǔ sòng cūn guī,
飞雪迎春到- fēi yuě yíng chūn dào。
已是悬崖百丈冰 - Yǐ shì xuán yá bái zhàng bī,
犹有花枝俏 - yóu yǒu huā zhī qiào。

俏也不争春 - Qiào yě bù zhēng chūn,
只把春来报 - zhǐ bǎ chūn lái bào 。
待到山花烂漫时 - Dài dào shān huā lán màn shí,
她在丛中笑 - tā zài cōng zhōng xiào。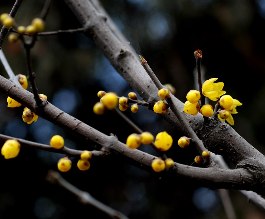 If you have any questions, comments or suggestions, welcome to write to shirley@ebridge.cn or shirleyz004@yahoo.com ,you can also publish your opinions on Message Board . :-)

--Shirley Zhang

Feb 6, 2012 / June 27, 2010