Listen to Shirley Singing the Poem in English Dec 29 2011


Listen to Shirley Singing the Poem in Chinese Dec 29, 2011



Listen to Shirley Singing the Poem in English Dec 29 2011


Listen to Shirley Singing the Poem in Chinese Dec 29, 2011



Listen to Shirley Introducing This Poem Jan ,2012


Follow Shirley to Read the Poem & Chinese Characters



Learn the Meaning of the Poem with Shirley Together



See Shirley Created Picture & Calligraphy for the Poem Sep 2, 2007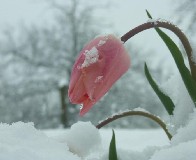 Hello, friends, have you seen any snow in August? It was seen seen in the China's frontier area about 1300 years ago in Tang Dynasty (618 - 907).

Anyway, because China was the strongest country in the world in Tang Dynasty, the strong national power and the developed economy situation offered Chinese people much confidence about themselves and the country, many people wanted to the frontier voluntarily, to create their own crareer enthusiastically with a very positive and optimistic life attitude.

Baixui Ge Song Wu Panguan Guijing-- A White Snow Song that was written by Chen Shen (A.D.715-A.D.770), just recorded and expressed this kind of situation via describing a wonderful landscape after a snow in August -- Just like a spring breeze came blowing in the night so that thousands and thousands pears are in blossoming suddenly in the morning.

The poet of the poem Chen Shen was from today's Hubei province. He started to read and to write when he was 5 and 9 years old. He went to the capital at 20 years old and became a successful candidate in the highest imperial examinations at 30, then he went to the border of the North Western area, and stayed there twice for 6 or 7 years.

Chen Shen wrote many poems, heroism poems was his highest accomplishment, for they have written the great scenery of the border area, how the generals and soldiers protected their country with the very positive and optimistic attitude in the hard environment.

Many of his poems also expressed the beautiful music, dance from the other nations and created his unique art styles with his own language. So, his poems were known extensively at his times.

Chen Shen has left 360 poems for us now.

There are 18 lines in the poem. The first 4 sentences are the most famous. So, on Dec 17, 2005, I tried to translate the 4 lines and created a piece of music to match them, then, I created a painting for it on Sep 2, 2007.

After 5 years, Dec 29,I re-translated the first 4 lines, corrected the music and re-sang it in English and in Chinese; Jan 2, 2012, I re-wrote my comments; later, I will also re-record what I have written and lead you to read the poem and the Chinese characters in Chinese.

Main Meaning of the Poem:

The North wind rolls the land & breaks the white grass.
Snow flies in the sky in Hu in August.
Like the spring breeze came blowing last night,
Suddenly, ten thousand pears are in blossom.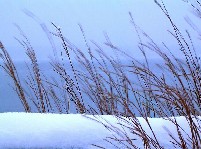 Accessories: Translation By Shanghai Online

The north wind rolls the white grasses and breaks them;
And the Eighth-month snow across the Tartar sky
Is like a spring gale, come up in the night,
Blowing open the petals of ten thousand pear trees.

It enters the pearl blinds, it wets the silk curtains;
A fur coat feels cold, a cotton mat flimsy;
Bows become rigid, can hardly be drawn
And the metal of armour congeals on the men;
The sand-sea deepens with fathomless ice,
And darkness masses its endless clouds;
But we drink to our guest bound home from camp,
And play him barbarian lutes, guitars, harps;
Till at dusk, when the drifts are crushing our tents
And our frozen red flags cannot flutter in the wind,
We watch him through Wheel-Tower Gate going eastward.
Into the snow-mounds of Heaven-Peak Road...
And then he disappears at the turn of the pass,
Leaving behind him only hoof-prints.

Chinese Characters & Pronunciations:

You can clink any Chinese Character in the first 4 lines to open the New Character Board and to see the Chinese pinyin, meaning, pronunciation and follow me to read the new words

白雪歌送武判官归京

北风卷地白草折,
胡天八月即飞雪。
忽如一夜春风来,
千树万树梨花开。

散入珠帘湿罗幕,
狐裘不暖锦衾薄。
将军角弓不得控,
都护铁衣冷犹著。
瀚海阑干百丈冰,
愁云黪淡万里凝。

中军置酒饮归客,
胡琴琵琶与羌笛。
纷纷暮雪下辕门,
风掣红旗冻不翻。

轮台东门送君去,
去时雪满天山路。
山回路转不见君,
雪上空留马行处。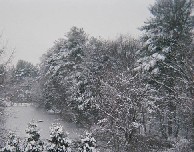 If you have any questions, comments and suggestions, please write to shirley@ebridge.cn , or shirleyz004@yahoo.com, You are welcomed.

Shirley Zhang
Written, Edited and Recorded On Sat, Dec 17, 2005/Sep 2, 2007/Jan 2, 2012