Listen to Shirley to Sing the Poem in English July 11, 2010


Listen to Shirley to Sing the Poem in Chinese July 11, 2010



Listen to Shirley to Sing the Poem in Chinese Dec 04, 2005



Listen Shirley to Explain the Poem July 12, 2010 & Follow Me to Read It & the New Words


Follow Shirley to the New Words & the Poem



Read Shirley's Comments about This Poem July 12, 2010



See Shirley Created Paintings and Calligraphy for the Poem July 10, 2010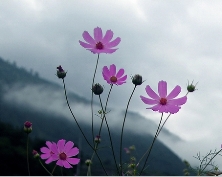 Hi, friends, after introducing some too serious Chinese poems last weeks, today, I would like to show you an easy, funny and interesting Chinese classical poem by an anonymous person.

This poem is made by four lines, 20 Chinese characters and includes 10 numbers from 1 to 10. :-) Just with so less characters and so many numbers, it has "painted out" a beautiful landscape for us.

Therefore, it has been chosen into the books for children. Many Chinese children can recite it as soon as they can speak. :-)

I really enjoy it for it is so alive and funny style. So, I had created a piece of music to match it in 2005. Also, I have created two new pictures with my imagination for you this weekend. :-)

MAIN MEANING OF THE PEOM :

Survey two, three miles,
There is a village with four or five houses (in the smoke from kitchen chimneys ),
pavilions six, seven in the mountains,
eight, nine, ten flowers by the road.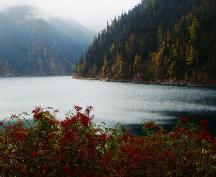 When I am reading the little poem, the feeling is that I am painting a picture following the direction of the poet in my mind.

First of all, to paint the background with two or three miles far away as a distant view. Then, on the left, a village with four or five houses in the smoke from kitchen chimneys; on the right and behind of the village, there are some pavilions on the mountains. Finally, paint some flowers near my feet by the road ... :-)

I really hope that my paintings and music will be able to help you to understand this poem better. :-)

NEW WORDS & CHINESE CHARACTERS:

You are welcome to hit any Chinese character that you need help, to see its Chinese pinyin, meaning, pronunciation and follow me to read it

一望二三里 Yī Wàng (E)èr Sān Lǐ

无名氏

一望二三里 - Yī wàng èr sān lǐ,
烟村四五家 - yā cūn sì wǔ jiā,
亭台六七座 - Títái lìu qī zuà,
八九十枝花 - bā jǐu shí zhī huā。


Oh, now, is there a picture in your mind? Do you like the picture via imagination? I hope you do and feel easy to remember these numbers and Chinese words.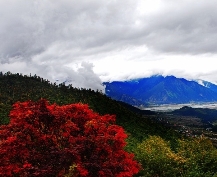 If you have any questions, comments and suggestions, please write to shirley@ebridge.cn or shirleyz004@yahoo.com. You are welcome to publish your opinions in Message Board as well.

Shirley Zhang
Written, Sung, Translated and Recorded on Mon, July 12, 2010/Nov 4, 2005