Listen to Shirley Singing the Song in Chinese Feb 14, 2009 in the US


Listen to Shirley Singing the Song In English Feb 14, 2009 in the US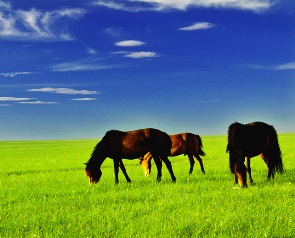 This is one of my favorite Chinese North folk songs, it also a typical Chinese love song that was created in 50's that has been loved by Chinese people.

It writes a life snippet -- One night, a man who was working on developing a new oilfield in the grassland of Kekedala of Xinjiang, played his music instrument while he missed his girl far away. He wanted to write a letter to her, but, there was no a postman to deliver it to her at that time that the oilfield was just be started. So, he wished the snow would smelt, the spring would come, the feature of the grassland would be changed, then his girl would come to accompany his tweedle.

People enjoy this song for its beautiful tone, its healthy and positive life attitude and also, for its typical China the Han nationality's style to express love. Under the education of the Confucianism for several thousand years, most of Chinese people do not speak the word "Love" easily or openly. We think that is a very private thing for 2 people. Even though we communicate with our lovers, we express our love with some indirect styles...

For example, this is a love song, but, you can not see any word to say "Love" directly, it just said that he wanted to send a letter to her, and also he just said that he wish she will come to accompany his music some day...

China is a country that has 56 nationalities, each nationality has a different way to express its feeling of love. Usually, Han Nationality is most indirectly, the minority nationalities are directly. So, you have to pay more attention to whom you are talking to when you have a communication with a Chinese... :-)

I learned this song in 2005. I translated it into English many times, but, I could not really sing it for the lyric was too difficult to match the music...

Friday night, I felt much easy after the 4th lesson has been past in the morning. I re-translate it and wanted to send it to you next day -- Valentine's Day (Feb 14, 2009). However, you can not imagine how difficult this time for me to complete this job.

Saturday morning, as soon as I started to work, I was broken by the telephone calls from an Auto Repair. Its CEO Mr. Justin Lim told me there were some problems in my car so that it had to be changed something inside... The difficulty was that I could not understood what he was talking with many professional terms... so that we telephone talking was keeping for a long time... Then, I treated some classmates to have a lunch according our plan days ago, then I went to the Auto Repair to take my car back...

If I said that the difficult thing was that I did not know whether I should plus a "s" or how I should use a prepositional phrase when I was translating the sentences below:

Waiting for the snow to melt on the grassland,
Waiting for the grassland to bring spring breeze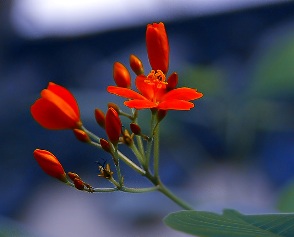 so that I had to make some telephone to ask my friends. The funniest thing was that when I finished my work to sing it in English, I just found that my microphone did not work for me, so that I did not record anything into my computer. Wow, My God! It was about 8:30am already. No way, I had to drive for about 15 minutes to buy a new one back. The funny thing was the after I came back from Wal-Mart, the old microphone re-started to work... I felt so strange and I could only smile to myself with much nose water -- the too cold weather had made me have a cold, and also, I turned off my heater when I made my recordings -- I did not want to the sounds of the heater to be recorded into my computer...

Anyway, I kept completing to sing and to record it in English and in Chinese first time.

I hope to use this song to wish that all of the lovers in the world will go together and have a Happy Valentine's Day. I wish that my song will bring you and yours a big smile.

If you are learning Chinese and Chinese culture, I also hope my singing will be some help to you to improve your Chinese listening ability.




Listen to Shirley Singing the Song in Chinese Feb 14, 2009 in the US


Listen to Shirley Singing the Song In English Feb 14, 2009 in the US

The beautiful night view is so peaceful,
There is only my tweedle on the wide grassland.
I want to write a letter to a girl far away,
it's a pity there's no a mail carrier to deliver my love to her.

Waiting for the snow to melt on the grassland,
Waiting for the grassland to bring spring breeze,
Kekedala will change her feature,
My girl will come to acompany my tweedle.
Lai, lai, lai, lai,
lai,lai, lai, lai,
lai, lai, lai,
lai, lai, lai,
My girl will come to accompany my tweedle


CHINSE PRONUNCIATION

草原之夜

美丽的夜色多沉静-- Meili de yese duo chenjing,
草原上只留下我的琴声 -- caoyuan shang zhi liuxia wo de qinsheng。
想给远方的姑娘写封信耶 -- xiang gei yuanfang de guniang xie feng xin ye,
可 惜 没 有 邮 递员来传情哎 -- kexi meiyou youdiyuan lai chuanqing。

等到千里雪消融 -- deng dao qianli xue xiaorong,
等到草原上送来春风 -- deng dao caoyuan shang chuanlai chunfeng。
可克达拉改变了模样耶 -- kekedala gaibian le moyang ye,
姑娘就会来伴我的琴声 -- guniang jiu hui lai ban wo de qinsheng,
来来来来 -- lai lai lai lai,
来来来来 -- lai lai lai lai,
来来来 -- lai lai lai ,
来,来,来,来-- lai, lai,lai, lai,
姑娘就会来伴我的琴声 -- guniang jiu hui lai ban wo de qinsheng。




Listen to Shirley Singing the Song in Chinese Feb 14, 2009 in the US


Listen to Shirley Singing the Song In English Feb 14, 2009 in the US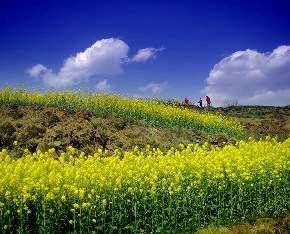 If you have any questions, comments or suggestions, please write to shirley@ebridge.cn, orYiping007@MissouriState.edu. You are welcome to publish your opinions in Forum For Friends. :-)

--Shirley Zhang
Written, Translated, Sung and Recorded on Sat, Feb 14, 2009