LISTEN TO SHIRLEY SING THE SONG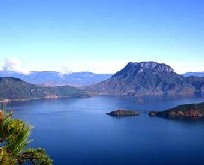 Right now I am smiling as I work on the music article for my little web site because I have re-learned the song -- The Qinghai-Tibet Plateau That I Had Learned to Sing 7 Months Ago. At the time, I could not sing the first two words by myself, they were sung by my vocal teacher. We also had to record it one verse at a time because I could not sing both the verses right through. Tonight I did not have any difficulty in singing the first lines of the song and also I sang whole of the song straight through. My teacher was very happy as she felt she had been successful in training me... :-)

Even thought I had worked in my office on Saturday for about 7½ hours from 8:00am to 16:30 hours and I was very tired, I did not cancel my vocal music lesson. The more I sing the more relaxed and comfortable I am. I feel that music really is the best thing to reduce tiredness and make me feel relaxed after my extremely tight work schedule... I think this is just one of the important reasons that I have kept up my Saturday night vocal music lessons for more than 4 years since 2002.. :-)

I do hope that you will feel that my singing has made a little bit of progress... :-)



MAIN MEANING OF THE SONG

LISTEN TO SHIRLEY SING THE SONG:

Qinghai-Tibet Plateau

Ya la suo, ah,

Is it who to bring the calling from the far away ancient times?
Is it who to leave the wishing for thousand years?
Is there wordless song really?
Or it is the sentimentally attached to the land?
Ah...
I have seen,
the mountains one by one,
All of them are connecting together,
That is just the Qinghai-Tibet Plateau.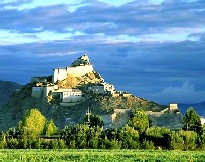 Is it who to look to the blue sky day and night,
Is it who to desire the dream forever,
Is there really the laudatory song?
Or it is the heavenliness that cannot be changed?
Ah...
I have seen the mountains one by one,
All of them are connecting together,
That is just the Qinghai-Tibet Plateau.


CHINESE CHARACTER AND PRONUNCIATION

LISTEN TO SHIRLEY SING THE SONG:


青藏高原 ? Qing Zhang Gao Yuan

呀啦索,哎. ? Ya La So, Ai…

是谁带来远古的呼唤 ? shi shui dai lai yuangu de huhuan ,
是谁留下千年的祈盼 ? shi shui liu xia qian nian de qipan 。
难道说 还 有无言 的 歌 ? nandao shuo hai you wu yan de ge?
还是 那 久久不能忘怀的眷恋 ? hai shi na jiujiu bu neng wang huai de juan lian。
哦 ? wo,
我看见一座座山 ? wo kaijian yi zuo zuo shan,
一座座山川相联 -- yi zuo zuo shan xianglian。
呀啦索 ? ya la suo,
那就是青藏高原 ? na jiu shi jing zang gao yuan。

是 谁 日 夜遥望 着 蓝 天 ? shi shui riye yaowang zhe laitian,
是谁渴望永久的梦幻 ? shi shui kewang yongyuan de menhuan 。
难道 说 还有赞美 的 歌 ? naidao shuo hai you zanmei de ge,
还是 那 仿 佛不能 改变的庄严 ? hai shi na fangfu duneng gaibian de zhuangyan。
哦 ? wo ,
我看见一座座山 ? wo kaijian yi zuo zuo shang,
一座座山川相联 -- yi zuo zuo shan xianglian。
呀啦索 ? ya la suo,
那就是青藏高原 ? na jiu shi jing zang gao yuan。




LISTEN TO SHIRLEY SINGING THE SONG: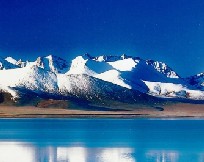 If you have any questions, comments or suggestions, please write to shirley@ebridge.cn, or shirleyz004@yahoo.com, You are welcome to publish your opinions in Forum For Friends. :-)

--Shirley
Written, Translated, Sung and Recorded on Sat, April 28, 2007