LISTEN TO THE TEXT

LISTEN TO SHIRLEY PLAY & SING THE POEM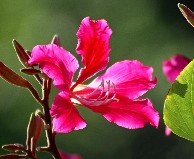 Hi, friends, what is your favourite life environment? What kind of life do you dream after you retire from your busy work some day? Mine is to go back the nature and to live among the mountains, water, sky, flowers, little animals, maybe some cats, dogs, fish, birds ... to feel the changing of the spring, summer, autumn and winter... with my painting, music, book writing and English, French Chinese or some the other langue learning and translation... just like a little fairy... :-) Just a joke and a dream... :-) . So, today, as long as I opened my poetry book to choose a poem to introduce to you and to write a piece of music to match it, I stopped on the poem that was written by Tang Dynasty poet Zhang Zhihe: Yu Fu Ge -- A Song of an Old Fisherman. :-)

I enjoy this poem for it has written out of the deeply love of the old fisherman to the great nature.

In a soft drizzle and tender wind, an old fisherman is enjoying the beautiful landscape that a group of egrets is flying over the mountains and some of fat mandarin fish is swimming in the clear water, many pink and white peach blossoms are blossoming between the mountains and water, he is so enjoying what he has seen and felt so that he does not want to go back home soon... :-)

I do amaze how wonderful expression ability of our Chinese language. Just with 27 characters, it has expressed so many meanings in the heart of the poet. :-)

So, I could not help to write a piece of music at the usual time I watch a TV play on Sunday noon. :-)

I do hope what I have written, played and sung for you, will be a little bit help to you to know more about Chinese culture and language.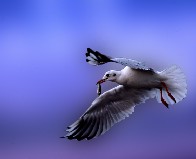 MAIN MEANING OF THE POEM

LISTEN TO SHIRLEY PLAY & SING THE POEM

A Song of an Old Fisherman

Zhang Zhihe ( Tang )

Egrets are flying front of the Xisai mountains,
Colored peach blossoms are opening by the river
And the fat mandarin fish is swimming in the flowing water.
I am in a blue large bamboo hat
and a coir raincoat,
Be in the tender wind and soft drizzle,
I am not in a hurry to come back home...


NEW WORDS AND RONUNCIATION :

Please hit any Chinese character that you need help with, to see its Chinese pinyin, pronunciation, and meaning and follow me to read it.

CHINESE CHARACTERS:

渔父歌

张志和 (唐)

西塞山前白鹭飞,
桃花流水鳜鱼肥。
青箬笠、绿蓑衣,
斜风细雨不须归。




LISTEN TO SHIRLEY PLAY & SING THE POEM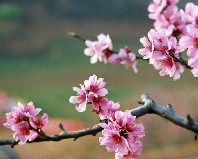 If you have any questions, comments and suggestions, please write to shirley@ebridge.cn , or shirleyz004@yahoo.com, You are welcome to publish your opinions in Forum For Friends as well.
Shirley Zhang
Written, Sung, Translated and Recorded on Sun, Jan 7, 2007