Hi,Dear Friends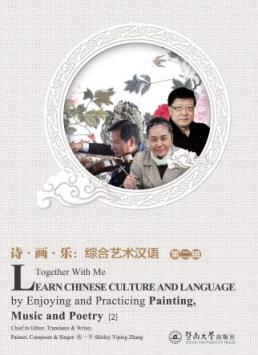 How are you? Have you had a good week until now?

On my side, there are some good news for you:

-- The Jinan University Press has completed the design of the packing box for my new publication -- Together With Me, Learn Chinese Culture & Language By Enjoying and Practicing Paintings, Music and Poetry (Volume 2), as soon as they finished their last examination and verification and applied three publishing numbers for the book and its electronic parts. If there is nothing special, it will be published formally in the end of March or the beginning of April, 2018.

-- My Supervisor Professor Mu Jiashan (he is on the first, three photos) has "Forced¡± and Pushed me into the creating phase of Chinese Dry Ink Mountain and Water Painting. Although I often do it to be a Chinese Water and Ink Painting, my art study has gone up a new step.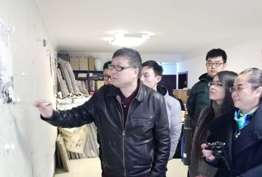 To be honest, I had written to Professor Mu Jiashan and asked him to allow me to "escape¡± from an even of his team ,which may be an art exhibition or publishing an album in the spring semester, 2018.

However, as soon as getting my application, Professor Mu called me back and told me three points:

1. He was confident with me to be able to create something well;
2. That was my assignment which I must do.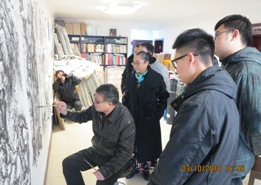 3. He would like to show me how and where to do it.

With a little bit disappointment but more appreciated heart, as soon as putting down the cell phone in the morning March 1, I bought all of the books on Chinese Dry Ink Painting by my supervisor who is the first Supervisor of the Candidates for their MFA (Master degree of Fine Arts) on Chinese Dry Ink Mountain and Water Painting in China.

I didn¡¯t do it until March 1, 2018, for I had made my credits enough via majoring in flower and bird painting according to the regulation of the school, as a candidate for my MFA (Master of Fine Arts) on theory, my current duty is just to complete my dissertation. Now my supervisor asked me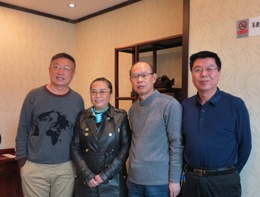 to improve both of painting and theory, that is really my double opportunities which the God sends to me.

Do you know why?

Since Tang Dynasty (618-907), Chinese people started to admire the painting with the Chinese ink and water, until the Yuan Dynasty (1271 - 1368) and Ming Dynasty (1368£­1644),Chinese ink painting became the highest level one among Chinese paintings.

Since the middle and end of the Ming Dynasty (1368£­1644), theoretically, Chinese have been thinking that Chinese mountain and water painting (landscape) is the No. 1 among Chinese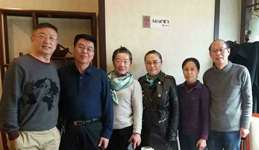 paintings; the Ink Landscape ( Mountain & Water Painting with Ink is the No.1 of the mountain and water painting (landscapes).

Until Qing Dynasty (1644 to 1922), a Dry Ink Mountain & Water Painting was initialed, but until 90's in the contemporary era, it just really became a new art, and it is acknowledged as the most difficult Chinese painting, for it is not only a technique but also a Literati painting. Now my supervisor Professor Mu Jiashan is just the Leading Figure in this field of China.

With an appreciated heart, I would really like to catch the god-given opportunity and try to learn as much as possible.

Just from March 1 to 9, I created the two paintings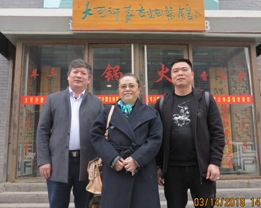 below and written a little article with 3,000 Chinese Characters on the Chinese Dry Ink Mountain & Water Painting.

Professor Mu praised both of my article and the creations and pointed out what and where I should improve on them in the first lesson of the new semester on March 10, 2018.

-- Since a professional network company became my technology supporter Jan 14, 2018, I have seen the first light of morning to improve my work platform. By now, the obvious mistakes have been removed from my old web site; the too long music titles which have led some messy codes of the publication have been corrected; I myself would been able to add, cancel, or correct any grade¡¯s titles on my new web site and the situation which I had to rely on a technology supporter to change this kind of things on my old web site will be finished totally.

If there is nothing special, my new web site will be online at the similar time to my new publication was published.

What I want to do is to make an alive model to show the commercial value of my little cross-cultural and comprehensive art project, meanwhile, to fix a new work platform for myself. I wish to have more people to join us by a merger, a takeover or a cooperation. If it is happening, I would like to enlarge my little project which has been prepared and alive for 17 years to be a career. After working with the new team for a while, I am going to retreat to work on my favorite arts : Writing, Painting and Music, as a pure shareholder; if there is nothing happening, I will still work on it as a fine by myself.

The main ideas will be same on both, the difference is the size and scope. So, I am working with a dream, I do not worry about it and prepare to face two results with a peaceful heart.

-- Since coming back to my classmates who majored in Chinese language and literature in my first university, I often feel that I have been in a true cross-cultural and comprehensive art team. Almost everyday, I can get some new inspirations from those former young classmates and current poets, writers, teachers, professors, editors and officers on culture and education... Since Dec 25,2017, I have painted 21 paintings and written 17 articles... :-)

So, before going to the lesson, 3 classmates included two wives of 2 classmates and I have a lunch and a reunion on March 10, 2018.

The interesting things are: after I drafted this letter to you and prepared to send to you in the noon, I got two phone calls.

One is from the Jinan University Press, before my book is printed, a leader of publishing house asked the responsible editors to improve the design of the cover of my new book (the design of the packing box I have showed you will be kept), since they would not change the design of the external packing, that would be Ok; the other is from the former monitor of our class in China Central Academy of Fine Arts -- Mr. Yang Guangyin (he is on the left of the last photo), two of his work partners and he would come to my area and he would like to invite me to have a lunch with them together, then I said YES.

Anyway, with so much good news, I am facing a hard choice to arrange my time... :-)

How about you? Do you have anything special to share?

Photo Notes:

No. 1: The Design of the packing box which was designed by Jinan University Press. The one on the left is my music professor and piano accompanist Prof. Meng Weiye. The one on the right is my supervisor and art professor Prof. Mu Jiashan.

No.2 and No.3: Professor Mu Jiashan gave us the first course on March 10, 2018.

No.3: From left to right: Mr. Liu Jianwei who is a Deputy Editor-in-Chief of Daqing Daily, Mr. Xu Qianhe who is an Associate Dean of Beijing Sports Collage, Me, Mr.Zhao Zhichuan who is an official of Anqing City.

No.4: From left to right: Mr. Liu Jianwei, Mr.Zhao Zhichuan, Liu's Wife, Me, Wife of Mr. Xu Qianhe and Xu.

No.5: From left to right: Mr. Yang Guanyin, the former monitor of our class in China Central Academy of Fine Arts, me and Mr. Xu Binchuan,a general manager of a company from Guangxi.