Hi,Dear Friends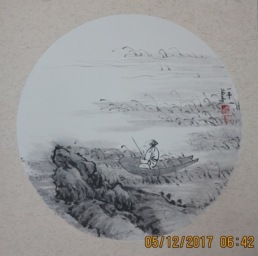 Have you had a good weekend?

This is just a short note to say Hello to you for keeping in touch with you, meanwhile, to share what I have done and hope to bring you a big smile.

Since I came back to China on April 29, 2017, I have been fighting with the sicknesses while working on my study under the directions of my supervisor -- Professor Mu Jiashan of Chinese National Academy of Arts.

Although I could not sit, walk for the sharp ache on my low back and legs, and I needed help from my arms or a stick or the walls when I got up, although I could not eat well for I sometimes vomited... I lied on the bed to read and I stood by the wall to paint. Many times, the ache made me tremble and the cost to sit on the chair for 10 munities is to lie on the bed for 30 munities to wait for the ache passing away... as soon as I could, I kept studying on my professional courses...

I have painted 10 little paintings since I came back China, include 7 Chinese Mountain and Water Painting / landscapes and 3 Chinese Flower and Bird Paintings, and includes Chinese Xieyi, Biaomiao and Mogu 3 kinds of techniques.

Since July 15, 2016, I have completed my assignments 112 of 300.

I am not sure whether I will be luck enough to take part in the special course which was offered by my supervisor in the other school in Beijing yet, I have watched some of his teaching video, read a lot according to his book list and I did not stop to paint as soon as I could stand up...

I am sure that I will get better and better along with the time. Right now, I am sitting on the chair to write to you on my computer even though the ache is still there and I need help from a wide waistband with some thin concrete iron in it...I will certainly create a wonder to recover my health some day.

No matter what will happen in the future,I am going to keep studying and living with my sicknesses together. With a hopeful and peaceful heart, to face my destiny and to keep my little cross-cultural and comprehensive art dream forever...

How about you? Do you have anything special to share?